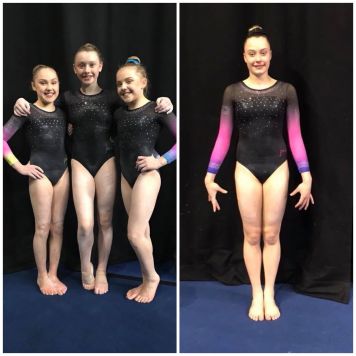 Wow what an awesome weekend team pink had at the British Championships 2018! Four of our girls travelled down to compete in the Liverpool Echo Arena at the weekend in the Junior and Senior competition against the best gymnasts in Great Britain in front of a huge crowded arena.
The Friday was the start of the competition and Mia Scott, Leah Greenland and Lydia Collins were the first to take to the podium in the junior competition. The three girls competed on all four pieces of apparatus starting on the floor where Leah kicked off the competition as she was the first gymnast up. All three girls performed beautiful clean floor routines and then moved over to the vault where they all got through with no major deductions. The bars was the next piece where Mia performed an excellent routine which qualified her for the bar final on the Sunday in a fantastic 8th place! Leah counted one fall on bars with Lydia going cleanly through her routine. Beam was the final piece in this all around competition for the girls and Leah showed off a beautiful routine which qualified her for the beam final on the Sunday in 2nd place! Mia and Lydia both counted one fall each on the beam.
Leah Rockett was our only gymnast to compete in the Senior competition on the Saturday where she started off on the beam with a shaky start counting a few falls. After beam Leah headed over to the floor where she showed off her classy floor routine which she went through cleanly. Vault was up next and Leah vaulted a lovely straight yurchenko to the judges. Bars was the last piece to compete and after a fall towards the start of the bar routine Leah finished off strongly.
Sunday was finals day for Mia and Leah G and Mia was up first with her bar routine. Mia counted one fall but still placed an incredible 7th place ranking her the 7th best junior gymnast on bars in Great Britain! Leah was then up to perform her beam routine and was the second last gymnast to perform. Leah held her nerve and showed off a strong and steady routine, keeping her composure throughout with hardly a flicker on any off her skills. Leah Greenland fought off a strong group off gymnasts and now has the title of Junior Beam Champion 2018! An absolutely amazing achievement for Leah and the club! Be sure to head over to our Facebook page and instagram page where you can view Leah's gold medal beam routine!
Facebook: southdurhamgym
Instagram: southdurhamgym