Baby & Toddler Gym
Baby & Toddler Gym Sessions Postponed
Unfortunately, whilst County Durham under Tier 3 COVID restrictions, we are unable to run our Baby & Toddler Gym sessions - but we are able to continue delivering our structured Pre-School Gymnastics sessions on a Wednesday, Thursday & Saturday!
We hope to be running our Baby & Toddler Gym sessions again very soon - keep an eye on our website & social media pages for more information!
What Baby & Toddler Gym?
The Pink Gym is transformed into an inviting safe environment with full use of the gymnastics equipment (including the trampolines!), as well as plenty of soft obstacles and toys to encourage your babies and toddlers to explore and expand their boundaries under your guidance.
The sessions are 1 hour long and finish with 'song time'.
COVID-19
Please note that due to COVID-19 we have had to introduce a series of new safety measures:
Sessions are now 1 hour long and must be booked in advance online

Access to the Pink Gym is via the fire doors behind the 'Grand Electric Hall' - there is no access from the Leisure Centre

Sessions are restricted to a maximum of 35 children

Only 1 adult per child is permitted within the session

Temperature checks are in place prior to entering the Gymnastics Hall

The foam pits and large inflatable challenger will not be in use, and all 'soft' toys have been removed, so only equipment / toys that have hard surfaces (that can be wiped clean) will be in use - this makes the sessions less suitable for children under the age of 9 months
Please click here for a full copy of our Baby & Toddler Gym: Rules, Terms & Conditions. By booking onto / attending our Baby & Toddler Gym session(s) you agree to the terms and conditions set out in this document.
When is it?
During term time, our Baby Gym sessions run as follows:
Monday: 11.00 - 12.00

Tuesday: 10.00 - 11.00, 11.30 - 12.30, 1.30 - 2.30

Thursday: 10.00 - 11.00, 11.30 - 12.30

Friday: 10.00 - 11.00, 11.30 - 12.30
Any cancellations, plus school holiday times are always kept updated on this webpage.
During the School Holidays we run Family Play sessions, suitable for children aged 9 months to 7 years. Pending localised COVID Tier restrictions, we hope to be running more Family Play sessions during the Christmas Holidays - as soon as the dates go live, you will be able to book on here.
How much does it cost?
Sessions are suitable for children aged 9 months - 4 years, and cost £6 per child. Siblings under 9 months can come along for free - but must be carried in a sling where possible. Sessions must be booked online, or by calling the Office on: 01388 811877.
There is a £2 sibling discount if you are bringing siblings along to the same class - simply enter the code: SIBLING before you enter your payment details!
Pre-School Gymnastics
Did you know we also offer structured Pre-School Gymnastics classes for 2-3 and 3-4 year olds? As they are structured, our Pre-School sessions can continue to run whilst we are in Tier 3!
Our 45 minute sessions create an environment where both parents and children can bond and interact whilst learning the basic gymnastics movements in a fun & safe way. Parents have a hands-on approach alongside our team of coaches supporting and guiding their children throughout the course. Each gymnastics session covers themes such as rolling, balancing, swinging and jumping. Along with this, core tasks and exercises are filtered into the sessions - adding the development of things such as coordination, muscle strength and confidence building.
Please click on the image below for more information!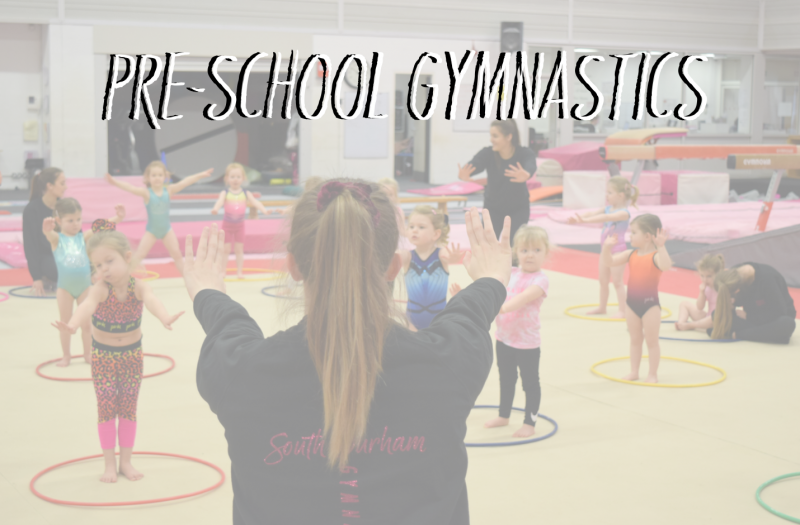 Book Your Baby & Toddler Session Slot Online