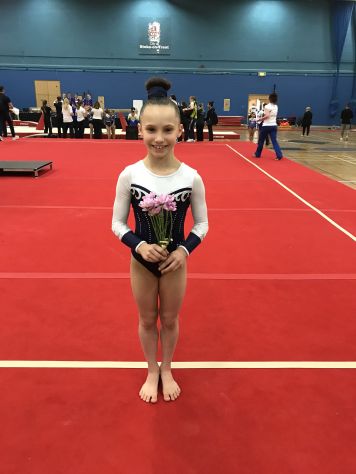 Keira Pedelty travelled down to the British Gymnastics Compulsory Level 4 competition on Friday after qualifying with the highest North score in the Regional competition earlier last month.
Keira's competition took place on Saturday morning where she and the rest of the North team started their competition on rest and then moved round the 4 pieces from vault to bars, beam, floor and then finally range. After two strong vaults Keira showed an excellent bar set even adding an extra close bar skill into her routine for bonus marks. After bars she performed a very calm and confident beam routine going cleanly through before moving over to the floor exercise where she showed off her routine beautifully. Range was the final piece Keira competed on and she held her nerve till the end finishing the piece with under a whole mark of deductions securing her the 6th place spot.
Keira is now the 6th best gymnast in Great Britain for her age and we are extremely proud of how she prepared and competed at this top competition. We are very excited to see her grow in the coming months as we prepare for the competitions starting again later in the year.