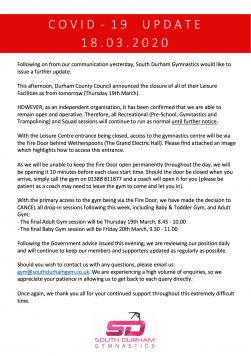 Following on from our communication yesterday, South Durham Gymnastics would like to issue a further update.

This afternoon, Durham County Council announced the closure of all of their Leisure Facilities as from tomorrow (Thursday 19th March).

HOWEVER, as an independent organisation, it has been confirmed that we are able to remain open and operative. Therefore, all Recreational (Pre-School, Gymnastics and Trampolining) and Squad sessions will continue to run as normal until further notice.

With the Leisure Centre entrance being closed, access to the gymnastics centre will be via the Fire Door behind Wetherspoons (The Grand Electric Hall). Please find attached an image which highlights how to access this entrance.

As we will be unable to keep the Fire Door open permanently throughout the day, we will be opening it 10 minutes before each class start time. Should the door be closed when you arrive, simply call the gym on 01388 811877 and a coach will open it for you (please be patient as a coach may need to leave the gym to come and let you in).

With the primary access to the gym being via the Fire Door, we have made the decision to CANCEL all drop-in sessions following this week, including Baby & Toddler Gym, and Adult Gym;
- The final Adult Gym session will be Thursday 19th March, 8.45 - 10.00
- The final Baby Gym session will be Friday 20th March, 9.30 - 11.00

Following the Government advice issued this evening, we are reviewing our position daily and will continue to keep our members and supporters updated as regularly as possible.

Should you wish to contact us with any questions, please email us: gym@southdurhamgym.co.uk. We are experiencing a high volume of enquiries, so we appreciate your patience in allowing us to get back to each query directly.

Once again, we thank you all for your continued support throughout this extremely difficult time.