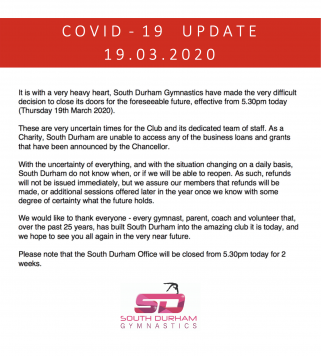 It is with a very heavy heart, South Durham Gymnastics have made the very difficult decision to close its doors for the foreseeable future, effective from 5.30pm today (Thursday 19th March 2020).

These are very uncertain times for the Club and its dedicated team of staff. As a Charity, South Durham are unable to access any of the business loans and grants that have been announced by the Chancellor.

With the uncertainty of everything, and with the situation changing on a daily basis, South Durham do not know when, or if we will be able to reopen. As such, refunds will not be issued immediately, but we assure our members that refunds will be made, or additional sessions offered later in the year once we know with some degree of certainty what the future holds.

We would like to thank everyone - every gymnast, parent, coach and volunteer that, over the past 25 years, has built South Durham into the amazing club it is today, and we hope to see you all again in the very near future.

Please note that the South Durham Office will be closed from 5.30pm today for 2 weeks.