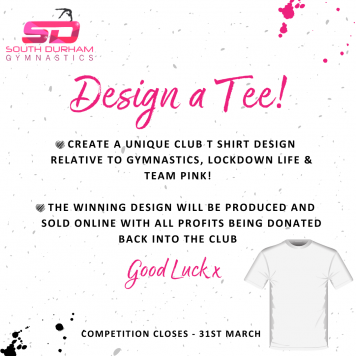 COMPETITION TIME!
Today we are launching a competition for all of our members! We would like YOU to design South Durham's next Club T-Shirt!
HOW TO ENTER...
Download & print the T-Shirt template
Your design should be relative to Gymnastics, Team Pink & Lockdown Life
Take a picture of your design and email to gym@southdurhamgym.co.uk
The deadline for entries is Wednesday 31st March 2021
The winning t-shirt will be produced and sold online - with all profits being donated to the Club to support us in these difficult times
We are not asking for an entry fee for the competition, but if you would like to make a small donation to the Club, it would be greatly appreciated - www.justgiving.com/campaign/southdurhamgymnastics
GOOD LUCK! We cannot wait to see your entries!
Team Pink X