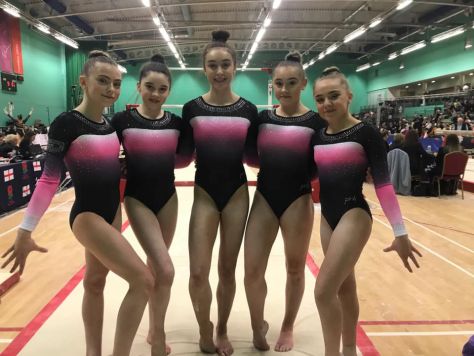 The club were proud to send 9 of our Pink Ladies down to Ilford at the weekend to compete amongst the best in England at the English Championships 2019.
First up in the Espoir competition we had Mercedes and Ellie who took to the floor on Friday. A fabulous display of gymnastics from Mercedes who put out 8 new upgrades including a huge full twisting yurchenko which helped her secure the silver medal on Vault and also a 4th place finish in the all around! Well done to Ellie also who competed some new skills including a fabulous upgraded bar routine.
Day 2 of the weekend saw Mia and Leah R take to the floor in the senior competition. Mia competed with such confidence and in doing so secured herself a top 10 finish in her first year as a senior gymnast having come up against many of the top GB squad members. Leah carried a few unfortunate falls but with this in mind still scored very well.
On the 3rd day of the weekend we had Honor, Charlotte, Harriet, Lydia and Leah G compete in the Junior competition. The final day saw a lot of uncharacteristic mistakes from the girls but hopefully that's the nerves out of the way as Leah, Lydia and Honor look ahead to the British Championships in two weeks time. Well done to Leah G who secured a 9th place finish in the overalls.