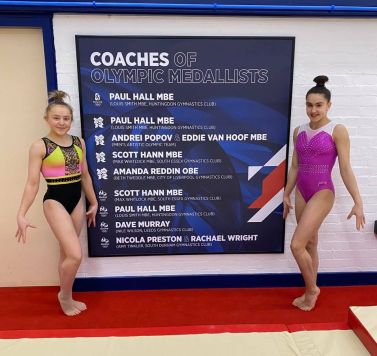 We couldn't be more proud to see Nic & Rach's names on the Coaches Honours Board at the National Gymnastics Centre in Lilleshall.
The prestigious new Honours Board names all of the personal coaches who have coached a gymnast to an Olympic medal.
Nic & Rach are very humbled & honoured that British Gymnastics have recognised the achievements of the coaches in this way.
This is even more poignant, as it comes in the same week that former South Durham gymnast, Amy Tinkler, has announced her retirement from gymnastics. It was an incredible journey for Nic, Rach & Amy, and the South Durham team holds special memories of the 14 years she was with the club. Team Pink would like to wish Amy the best in her future ventures.
Our 2016 Olympics medal has inspired a generation. And as we head into the Tokyo 2020 Olympics, we have no doubt that the sport of Gymnastics will continue to encourage people, young and old, to take up a sport that is truly accessible to everyone.