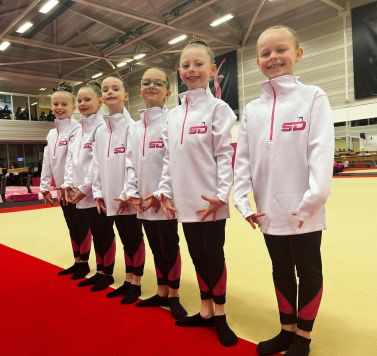 Our Development and Advanced Squads have had a very busy couple of weekends as they competed in their North, Club and Regional Grades.
The first weekend saw most of our development squad gymnasts competing right here in our very own gym against various clubs from around the North where they had routines on the vault, bars, beam and floor. All of the girls showed off some lovely routines and came away with an array of medals ribbons and trophies!
The second weekend had our advanced squad gymnasts travel to Redcar to compete on all 4 pieces of apparatus plus a range and conditioning set which tested both their strength and flexibility. All gymnasts performed confident routines and managed to win again a number of medals, ribbons and trophies!
Huge well done to all of our overall winners!
North Grade 5 - 12 & Over
Georgia Cringle
North Grade 4 - 11 & Under
Brooke Freeman
North Grade 4 - 12 & Over
Ebonie Totty
Club Grade 6 - 9 & Over
Lotti Peareth
Club Grade 5 - 10 & Over
Lottie Carey
Regional Grade 4 - 11 & Over
Chloe Bailes