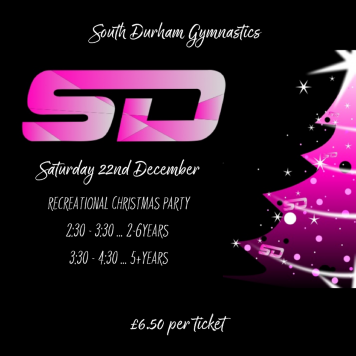 Tickets are now available for our Recreational Christmas Party 2018! Parties are available to both our members and non members so your gymnasts are very welcome to bring along friends and family who are not a part of the club.
Parties will include Christmas songs and games, time on the apparatus and an obstacle course including our inflatable challenger.
The ticket includes a 1 hour session in the gym followed by 1 hour of Christmas activities upstairs on our balcony. You can also meet SANTA!*
Spaces are limited so please contact the office to purchase your tickets!
Please see below for all party information:
-Saturday 22nd December
-2:30pm: 2-6 year olds (free play session with parents)
-3:30pm: 5+ year olds (structured session without parents)
-Ticket price: £6.50
-*Additional cost for meeting Santa (gift also provided)