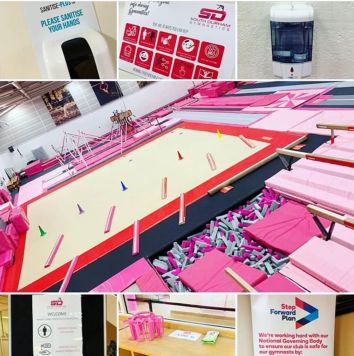 Months of planning and preparations, and a week of hard work / training by Team Pink in the gym, and we are ready to welcome back our Squad Gymnasts... 165 days since we closed our doors on Thursday 19th March.
Recreational sessions will resume the week commencing Monday 14th September 2020; our class pages (Pre-School, Gymnastics, Boys Gladiators & Trampolining) have been updated to reflect the Club's new class timetable.
Our drop in sessions (Baby & Toddler Gym, Adult Gym and Disability Gymnastics) are all currently paused due to COVID-19, but we hope to reintroduce these again very soon!
Unsure on what our new processes will look like? Check out our NEW Club COVID Policy and Risk Assessment on the POLICIES section of our website.
We look forward to seeing you all again very soon!
#TeamPink