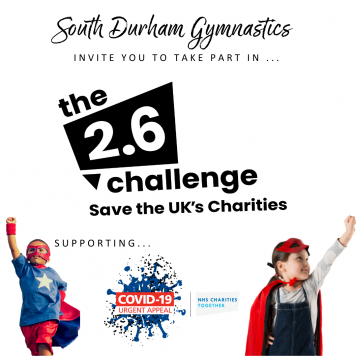 South Durham Gymnastics are delighted to be supporting the 2.6 Challenge!

The Covid-19 pandemic has had a devastating effect on UK charities, with the cancellation of thousands of events and the loss of billions in fundraising income.

The 2.6 Challenge will launch on Sunday 26th April – what should have been the date of the 40th London Marathon, the world's biggest one-day annual fundraising event.

We're asking our Pink Family to take part in an activity of your choice based around the numbers 2.6 or 26 and fundraise OR donate what you can to support our (or your own) chosen charity.

For this brilliant campaign, SDG have decided to support the 'NHS Charities Together Campaign', and donations can be made via their Virgin Money Giving Page: https://bit.ly/2VuONeL.

Here are some gymnastics ideas to get you started:
Hold a front support for 2.6 minutes (156 seconds)
Do 26 tuck jumps
Good at cartwheels? See if you can do 26 throughout the day!
Practice those handstands, and see if you can hold one for 26 seconds
Balance on 1 foot, throw and catch a ball or teddy bear 26 times

Whatever it is you decide to do, we would love to hear about it! Comment below with your pictures and video's, or tag us in your own social media - @southdurhamgym and use the #TwoPointSixChallenge.

Be as creative as you can - but remember to be safe and maintain social distancing.

To find out more about the 2.6 Challenge, and for further inspiration on challenge ideas, please visit their website: https://www.twopointsixchallenge.co.uk/inspiration.html