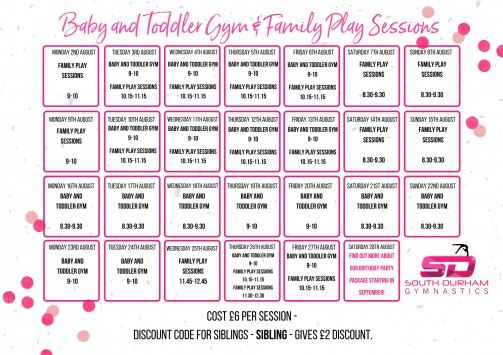 Struggling to keep up with the busy holiday schedule?...
...We've got you!
Team Pink have created a simple calendar consisting of every Baby/Toddler and Family Play session scheduled throughout the Summer. That way, all you have to do is keep coming back to this post or screenshot it, and that way you'll have it to hand wherever you are, whenever you need it!
Baby & Toddler Gym is a great environment for socialising for both parent / child, where you can introduce your little one to the lights / sounds and surfaces within the gym. There are toys, obstacle courses, swings, ride ons and lots soft play set ups to explore. Plus! With our new increased capacities, you can bring as many friends along as you wish! For infants ages 9months-4yrs - Hit the link below to book.
https://www.southdurhamgym.co.uk/product/baby-toddler-gym/
Family Play is a school holiday only session, and was introduced so that the whole family can enjoy the Pink Gym! The set up is much the same as during our Baby/Toddler sessions, meaning your teeny tots can enjoy the gym just as much as their older siblings! Obstacle courses, balance beams, challenges, inflatables, trampolines and use of all of our specialist equipment will keep them super busy, burn lots of energy and put smiles on their faces..(and yours too!) Suitable for children aged 9months-7yrs - Hit the link below to book.
https://www.southdurhamgym.co.uk/product/family-play-sessions/
To check out what other sessions we have running this summer, including Sportsability sessions, Private Lessons, Tumblemania and Dance Workshops ... visit the Holiday of our website!
https://www.southdurhamgym.co.uk/department/holiday-sessions/